The first Spring/Summer look from BABOR's AGEID make-up range presents warm and cool summer shades for the lips and nails, plus delicate, shimmering colors for radiant eyes and a fresh complexion. The new colors are as individual as your own personality, and are ideal for creating dazzling or pale highlights, whether shiny or matte, a relaxed look for the beach or an elegant look for a cocktail event.
---
EYES
With its light shimmering effect, Eye Shadow Pencil lends the eyes a radiant expression. Using the pencil in shade 09 light rosé, trace a line along the lash line, working from the outer to the inner corner of the eye. With 08 ivory pearl, place a highlight in the inner corner of the eye. The creamy eye shadow can then be blended perfectly. Alternative shade: 07 taupe.
LIPS
Lip Oil in shade 01 salmon is a conditioning oil with a gloss effect. It leaves lips soft and smooth, and with a beautiful shine, without being sticky. Alternative shades: 02 pink magenta and 03 pale pink; Creamy Lip Colour 17 perfect tan and 18 sun rose.
COMPLEXION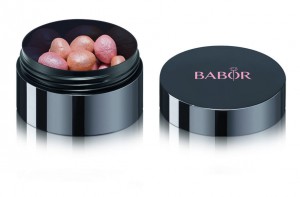 Glow Rocks face powder rounds off BABOR's vibrant Spring/Summer make-up and magically creates beautiful highlights on the face and décolleté. This compressed face powder simply rocks. Made from fine glow powder, it comes in two shades – rose or cream – that add a fresh glow over the entire face.
NAILS
The nail shades 09 salmon and 10 pink magenta allo

w lips and nails to be optimally color-coordinated. A brilliant tip to add variety to your nails: the colorless top coat 11 transparent matt transforms any nail color and gives nails a trendy, matte finish.
THE LATEST SHADES AT A GLANCE
Lip Oil – 01 salmon, 02 pink magenta; 03 pale pink: 5 ml, 18,50 Euro
Creamy Lip Colour – 17 perfect tan; 18 sun rose: 4 gr., 23,00 Euro
Eye Shadow Pencil – 07 taupe; 08 ivory pearl; 09 light rosé: 2 gr,16,50 Euro
Glow Rocks: 30 gr., 28,50 Euro
Nail Colour –  09 salmon; 10 pink magenta: 7 ml, 12,50 Euro
Top Coat – 11 transparent matt: 7 ml, 12,50 Euro