Good things can be so simple – when you know how they work. BABOR's research team was guided by a simple but effective principle when developing the CLEANSING line: a gentle action with the added bonus of an anti-pollution effect. After all, effective protection against environmental stress is just as important as a gentle cleansing action.
---
Cleansing and Protection
This outcome is possible thanks to the innovative Anti-OX Complex of lemon bioflavonoids and aloe vera. Extracts of brocco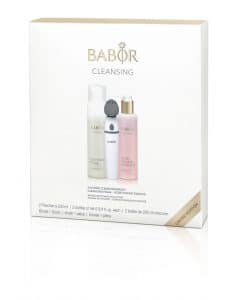 li also stimulate the production of the skin's own detoxifying enzymes, while specially processed apple water triggers an additional turbo effect. BABOR uses flash distillation to obtain Pyrus malus (apple) fruit water, which absorbs the valuable trace elements and minerals contained in apples and also enables the skin to form tiny channels to absorb active ingredients. This not only ensures that skin is cleansed deep down, but also improves its ability to absorb skincare components in any serums and creams. The skin can then breathe freely again. Besides HY-ÖL, the legendary bi-phase cleansing oil, the BABOR Cleansing range includes effective super-cleansing specialists in keeping with the new "anti-pollution purity law".
Bi-phase cleansing with HY-ÖL and phytoactive BABOR HY-Öl

The hydrophilic oil, HY-ÖL, which is applied to dry skin (do not moisten beforehand), removes oil-soluble particles. Quillaja saponaria bark extract also acts like a dirt magnet. Mixed with water and a phytoactive, the oil becomes a milky emulsion, which also removes water-soluble dirt, and at the same time moisturizes and conditions the skin. 200 ml
The four phytoactives moisturize and condition the skin, even as you cleanse. All the phytoactives includes an extract of the herb Agrimonia eupatoria, which contains natural antioxidants to combat negative environmental influences, while the apple water helps the skin to absorb active ingredients.




PHYTOACTIVE SENSITIVE. For sensitive skin. Selected herbal extracts of lime blossom, hops and lemon balm calm and relax the skin.100 ml
PHYTOACTIVE HYDRO BASE. For dry skin. Mint, beech leaf and rosemary vitalize and refresh. 100 ml
PHYTOACTIVE COMBINATION. For oily and combination skin. Selected herbal extracts of sage, witch hazel and azulene refine and balance the skin. 100 ml
PHYTOACTIVE REACTIVATING. For demanding skin in need of regeneration. Sweet almond blossom, green coffee and ginkgo biloba thoroughly moisturize and vitalize the skin. 100 ml
The Cleansing Range
GENTLE CLEANSING MILK. The Anti-OX Complex stimulates the skin's own detoxifying enzymes, while Pyrus malus (apple) fruit water briefly makes the skin more permeable and improves its ability to absorb active ingredients in subsequent products. 200 ml


CLEANSING FOAM. This light, foaming mousse contains the Anti-Ox Complex, which stimulates the skin's own detoxifying enzymes, while Pyrus malus (apple) fruit water ensures that skin is better able to absorb active ingredients. Bisabolol and panthenol calm the skin and soothe irritations. 200 ml
CLEANSING GEL & TONIC 2 IN 1. This refreshing gel and tonic with an antibacterial action is ideal for oily and combination skin. Extracts of horsetail are effective in combating blemishes. In addition, panthenol calms the skin, while the Anti-Ox Complex promotes the skin's detoxification processes on a daily basis. The result? Visibly soft, clean skin which, thanks to the apple water, is also ideally prepared to absorb ingredients in subsequent products. 200 ml
ENZYME CLEANSER. An uncomplicated cleansing powder. Mixed with water, it turns into a fine foam and – thanks to its gentle exfoliating effect – reveals a shimmering, even-toned complexion. The cleanser contains enzymes that gently remove dead, flaky skin. Vitamin C protects against harmful environmental factors and lays the foundations for healthy skin cells, even as you cleanse

. 75 g
EYE MAKE-UP REMOVER. This oil-free eye make-up remover cleanses the sensitive eye area gently. Thanks to its mild formula, it is suitable for contact lens wearers and also for lash extensions. In addition, the Anti-OX Complex protects against environmental stress. Professional tip: it is also ideal for removing lip make-up! 100ml