An exquisite selection of spicy and sweet treats, freshly prepared with selected, premium ingredients: Kitsch Counter. Formerly known as Kitsch Cupcakes, the food concept delights gourmets in the UAE with a delicious mix of sweet and spicy creations. Behind the project is Dalia Dogmoch Soubra, author of the bestseller "Food Love and Life from Dalia's Kitchen.
Dalia Dogmoch Soubr, cookery book author and co-founder of Kitsch Counter, is an acclaimed and enthusiastic expert on cooking and baking. The culinary globetrotter was born in London, grew up in Paris and later moved to Beirut, where she founded the first Kitsch in 2006, together with her business partner Racil Chalhoub. The goal was to create a unique concept from style and food. A place in which people could relax and enjoy without constraint. Today, branches of Kitsch are scattered throughout the Middle East. "We began with a gastronomy concept in which genuine ingredients and real food played a major role. Today we are going a step further and offering healthy alternatives, as people eat more healthily today than in the past. We are delighted with our improved concept, which provides our customers with numerous tasty and healthy alternatives."
AWARD-WINNING CUPCAKES
The first Kitsch Cupcakes opened in 2008 on the Jumeirah Beach Road in Dubai. At that time the company was a cupcake pioneer in the region. Two years later a second branch opened in Abu Dhabi, followed by a third at the Dubai International Financial Centre. In recent years the sweet treats have garnered a degree of attention, for example from British star chef Marco-Pierre White. Naturally, the exquisite and multi award-winning cupcakes continue to delight the guests at Kitsch Counter. However, gourmets can also try Paleo Muffins, homemade jam and spicy offerings such as zucchini bread, the popular Kitsch Kale Salad, gluten-free, homemade bread and many other delicacies. Dalia knows what makes her customers happy: "We have alterna – tives for everyone, you can eat your vegetables as well as enjoying something sweet. And that has always been my philosophy, really, because life is too short for bad food."
 Recipe  "ZA'ATAR CHICKEN"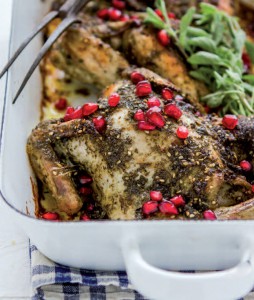 Time for preparation and cooking approximately 1 hour each.
Ingredients for 4 people: 3 tsp. of Za'atar (Arabic spice blend), ¼ cup of olive oil, 2-4 tsp. of lemon juice, 4 finelychopped garlic cloves, ¼ tsp. of salt, two young roasting chickens (approx. 1 kg each), black pepper to taste, ¼ cup of pomegranate seeds.
Preparation: Preheat the oven to 200°C. Stir the ingredients in a bowl without the chicken, until a stiff paste is formed. Rub this into the chicken thoroughly and place in the fridge to marinate for at least 1 hour. Roast the chickens in the oven for 30 minutes, before lowering the temperature to 180°C and roasting for a further 20-30 minutes. Testing that the chicken is cooked: push a skewer into the thickest part of the meat, if colourless juice runs out, remove from the oven and leave the chicken to stand for 10 minutes, covered with aluminium foil, before serving. Green salad and roast potatoes are the ideal accompaniment.
Text: Maja Berthold
Fotos: © Kitsch Counter