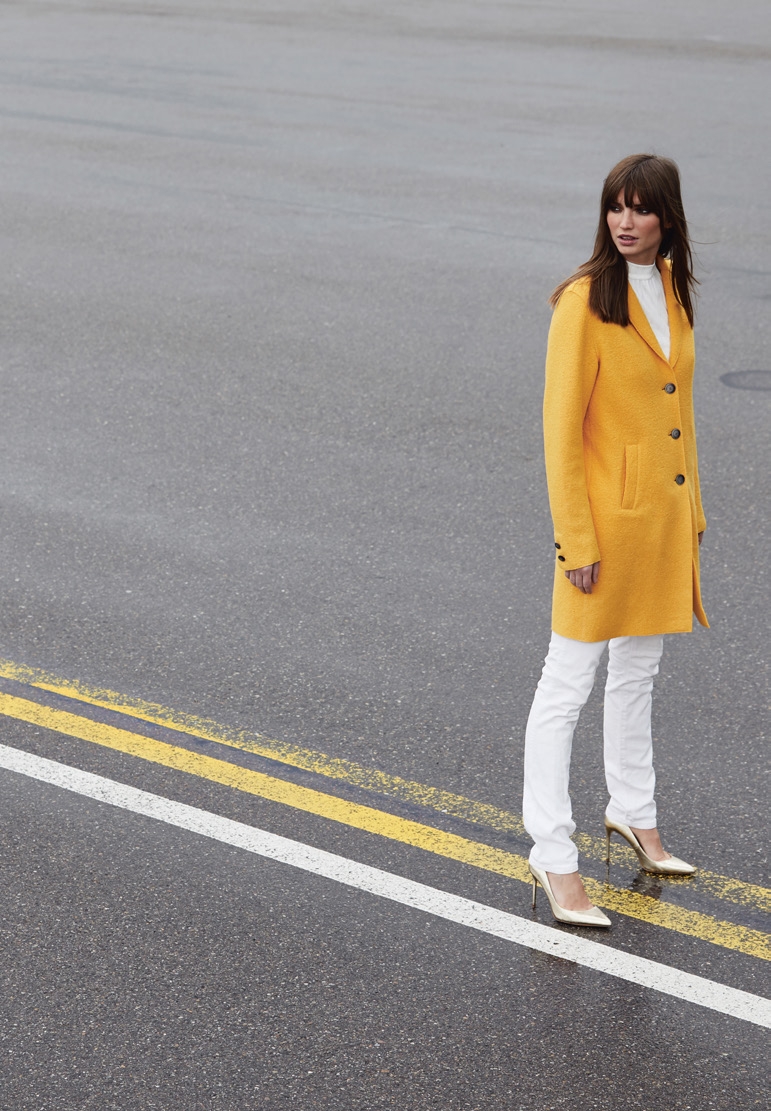 We take a look at the must-haves of the next year: The spring/summer 2020 season is MILESTONE's motto "Summer of LOVE": This is already indicated by the metallic shimmering interior print "LOVE MILESTONE", which runs through the women's collection as a glossy thread.
---
Advertisement
Summer is on its way
The trend themes for summer 2020 are clear: modernity is being redefined. It can´t be loud or bland enough. Casual oversized hoodies, parkas and denim jackets with a new cut shoulder shape in light patent leather, flowing suede models in natural shades in the animal safari trend, feminine dress jackets with fine, shiny metallic details or cool colour-blocking racing jackets: Summer is on its way!
Rainbow Spectrum
The sun comes and makes you thirsty for colour! Cool nappa leather jackets and light velour jackets are available in bright pink, electric blue, violet, grass green, sun yellow, orange and fire red. With contrasting colours on edges and zipper straps or as a cool colour blocking for the courageous customer. This season, the colour box offers everything your heart desires.
DIAMOND DUST
Metallic shine is used discreetly this season and runs through all parts of the collection. High-gloss and metallic reflective surfaces in fine glossy nappa leather with light gloss dust become eye-catchers. Velour and pastel nubuck leather becomes a star with a broken tone-in-tone sheen. Discreet metal details as pearls or piping lend the looks a radiant extra.
UNLINED LIGHTNESS
The highlights of the collection are light, unlined styles in nappa and suede leather. Velour blazers, feminine coats with a round neckline or casual parkas are napped to the eye with cheerful contrasting colours. Light unlined leather jackets in different styles are the best companion for a warm evening.
WILD LIFE
Another important theme of the summer: Safari Wildlife. Airy trench coats, elegant dress jackets, casual shirt types with belts and cool jeans jackets become highlights with animal prints. Sometimes with a complete print inside or outside, sometimes discreet with small details in the accessories. Explore your wild side!
BODYCON
Show what you have – with the sexy and figure-hugging stretch leather jackets! Whether completely in stretch nappa or suede, in filigree striped look or with fine stretch mesh inserts in seams: A real wow factor at every event!
NEW SHAPES
New this season: Casual, intersected shapes that add to our body-smoothing, feminine cuts. The fits are airier, cooler, more street wear. Sporty hoods with overlapped shoulders. Stylish oversized denim jackets. Straight cut parkas and coats. The new casualness brings variety into the wardrobe.
FLASH
The first colourful step into summer: in new technopastels such as rainbow, violet, smoky mint, gunmetal or pink candy. Label foil prints remind of the disco age of the 80s. Turquoise, lilac, mango, coral and lots of white whet the appetite for summer.
SUNTASTIC RHYTHM
Warm, fruity bright colours such as intense yellow, coral or pink make a strong statement and are reminiscent of exotic places around the globe. Stripes and stone nut buttons with pineapple motifs are eye-catchers.
FUTURE NOW
Street wear mixes with classic. Drawstrings, zippers and seam tapings are part of the look. The functional jacket, which also plays with new materials and details such as reflectors, is a style-setting feature. The buttonable, ultra-light quilted hoods made of high-tech foil are eye-catchers with a functional background. Rain in new looks: Iridescently rubber coatings are an eye-catcher in the new A-line coat silhouette – or as crashed reflective parkas contrasted with matt waterproof zippers.
EMPATHIC NATURE
Flowing cupros, linen in nature and pastels are shown in new, sleeved oversized silhouettes with casual safari bags and work wear elements, field jackets or wide overlapped jeans jackets with narrow waists. Trench coats in natural qualities, waisted or straight as H-liniger trench with frill elements and a wide belt as waist accentuation – especially through loud satin lining and label print in colour blocking.
Logomania
MILESTONE Letters are printed on functional waterproof zippers in an alienated way, making reflective oversized blousons an eye-catcher.
JERSEYMANIA
Classic shape in casual look – light, flowing trench coat with cut edges and pineapple button or as unlined pique jersey blazer garment dyed in bright colours. Sporty: Light quilting with bonded jersey inserts – as a soft sweat jacket replacement with jersey sleeves or as a light parka.
VICE VERSA
The function of turning remains the sales argument. New at MILESTONE: Oversized reversible bombers in taffeta/nylon mix with knitted cuffs in gaudy colour patch pink/orange or sleeved as a cool reversible coat in apple/ beige: the must-have of the season.
Photos: MILESTONE