Tighter, slimmer, fitter – and that in 15 minutes twice a week? That sounds too good to be true. But it is. With the mobile EMS training devices from ROTON you can get your body in top shape – whether at home, on your yacht or in a hotel suite. The efficiency of EMS home devices is in no way inferior to studio devices.
---
Advertisement 
The EMS home training devices "ROTON Star" for beginners and "ROTON Galaxy" for EMS experienced users promise a training experience with quickly noticeable results. The devices are extremely effective. The regeneration time is 48-72 hours, depending on the intensity of the training. Therefore, two training units per week are completely sufficient. EMS training in studio quality could not be more flexible and simpler.
EMS Training as in a studio
More and more fitness studios now offer EMS training for muscle building. But apart from the cost, not every person willing to train has the desire, time or opportunity to visit a gym. Especially in these times. That is also not necessary. The mobile EMS home devices from ROTON offer the same training intensity as studio equipment. The same impulse quality, the same effect – only the training location is freely selectable. The minimal expenditure of time and power makes EMS (electro-myo-stimulation) particularly attractive. 
Joint-gentle EMS training without sports
Simply switch on the EMS exercise bike, put on the EMS electrode and vest set and off you go with muscle building. Without sports and joint-gentle!
Studies and experience reports show that the low-frequency EMS current pulses effectively build up the muscles. Nice side effect: firmer skin and weight loss. The latter because more muscles burn more energy. This means that EMS training increases your basal metabolic rate.

EMS training for athletes and coach potatoes
Home EMS is ideal for people who do little or no exercise. Couch-Potatoes, but who still want to shape their body and support their health. Or people for whom classical training is simply not possible, for example because of a handicap.
Even new mothers are happy about this training method, where they can even keep an eye on their offspring. EMS is perfect for getting the after-baby body in shape and strengthening the pelvic floor. Athletes also use EMS to supplement their fitness program quickly and effectively.
The developer of ROTON Star and ROTON Galaxy, Daniel Schaefer, knows from his own experience how effective the training is. After a car accident with a plexus lesion, the graduate sports scientist used EMS to gently and effectively rebuild his muscles.
What does EMS do to the body?
The joint-gentle training has been used since the 1970s. Initially as a therapeutic measure to gently rebuild the muscles after injuries. Today, EMS has become an indispensable part of the fitness sector.
With EMS the body builds up muscles in less time than with conventional training. How is that possible? When muscles are naturally tensed, synapses send electrochemical signals to the brain. From there, the commands go on to the muscle cells and stimulate them in the biceps, for example. This is where EMS comes in. With its small electrodes, it triggers the same signal chain – and does so simultaneously in almost all muscle areas. This works because the muscle cells cannot distinguish between machine and human impulses.
Is EMS training harmful?
No. The devices are safe because they work exclusively with low-frequency current pulses. This means they activate the striated muscles, the so-called skeletal muscles. The heart muscles as well as the smooth musculature, i.e. the organ muscles, remain unaffected.
Nevertheless: EMS is not suitable for pregnant women and people with pacemakers. Thrombosis and acute infections are also contraindications. As with any intensive training method, it is advisable to consult your doctor in advance.

EMS at home: Exercise everywhere and at any time
The EMS devices for home use are only three kilos light and easy to use with easy touch buttons. Owing to an integrated accumulator the EMS home training device is everywhere and at any time applicable and fits even into the vacation luggage. "Boost your Body" has never been easier. 




Text: Sarah Schmitt
---
ROTON Star for beginners: 1.851,13 €; starter set incl. vest: 2435,03€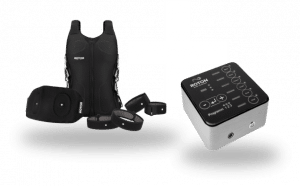 ROTON Galaxy for advanced users: 3.605,75 €; starter set incl. vest: 4.189,65€
Made in Germany, all devices with 24 months warranty 
Instructional video (in German) can be found here
Photos: © ROTON – BOOST YOUR BODY
Text: Sarah Schmitt