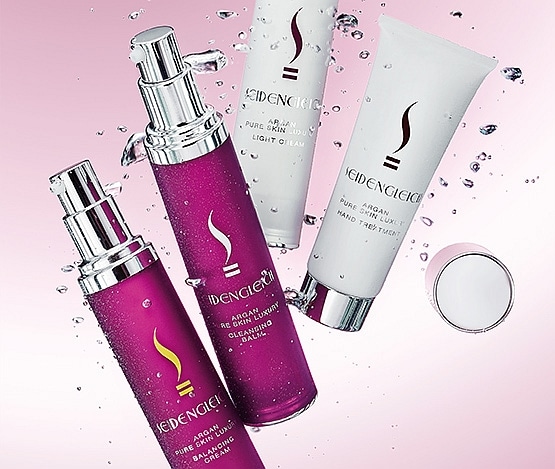 The skin is a miraculous work of nature. It is delicate and strong at the same time. It warms us, cools us, lets us feel and represents perfect beauty. In order for sensitive skin to be successful in the battle against signs of ageing, SEIDENGLEICH is oriented towards the perfection of nature. Embedded in an innovative nourishing formula, argan oil – the most precious oil in the world – helps your skin find a new balance. SEIDENGLEICH ARGAN Pure Skin Luxury.
---
Once your skin has found its balance,
your beauty is reawakened each day
More than forty percent of women worldwide long for cosmetics that are specially designed for the problems of sensitive skin. Claudia Mangels, the founder of SEIDENGLEICH, searched for decades for the perfect product for her highly sensitive skin. The SEIDENGLEICH ARGAN line is the result of her intensive research and investigations. It is an honest skincare system that does not want to promise miracles but to fulfil the needs of your skin. Here, nature's potential as well as that of science has been fully utilized. According to the principle "less is more", SEIDENGLEICH ARGAN is a skincare line that combines highly concentrated argan oil with a few select and powerful ingredients. Your skin will find its way to its own inner balance and to timeless beauty.

Not just any old active ingredient
So that each product can bring revolutionary care to your akin, SEIDENGLEICH goes that one step further whenever it seems appropriate; active ingredients in extraordinarily high concentrations are used. All the products used in the SEIDENGLEICH ARGAN line  are dermatologically tested and are oriented to the newest findings in science and research.
THE QUINTESSENCE OF BEAUTY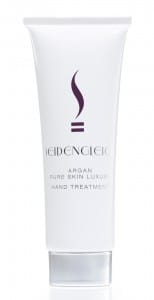 Argan oil: Argan oil possesses a very high percentage of essential fatty acids such as linoleic acid and oleic acid as well as dazzling with outstanding moisturizing and cell-regenerating properties. Its vitamin E content is markedly higher than that of olive oil, and it also scores extra points with the highest proven content so far of anti-inflammatory vegetable sterols such as schottenol and spinasterol. Plus, fabulous anti-aging qualities result from the high proportion of tocopherols and polyphenols.
Hyaluronic acid:  Anti-aging – from the inside. Hyaluronic acid is a natural hydrophilic (moisture binder) that is effective not only in the skin but throughout the whole body. This active ing

redient, indispensable for the beauty industry, is based on a chain of sugar molecules that can bind a very large amount of water. Hyaluron is a wonder-moisturizer that leaves your skin looking smooth and firm, gives it more elasticity and stimulates the production of collagen.
Urea: Urea stimulates the moisture supply process inside the skin and is one of the most effective and well-tolerated ingredients for dry skin and its accompanying symptoms such as tautness, itching or redness.
Borage see oil: The oil of the borage plant has a very high content of gamma-linoleic acid. This is successful in treating skin disorders such as neurodermatitis; it also has a regenerative effect on the skin as well as having anti-inflammatory and firming properties.
Systematic Care
SEIDENGLEICH Argan Cleansing Balm
SEIDENGLEICH Argan Balancing Cream
SEIDENGLEICH Argan Light Cream
SEIDENGLEICH Argan Hand Treatment