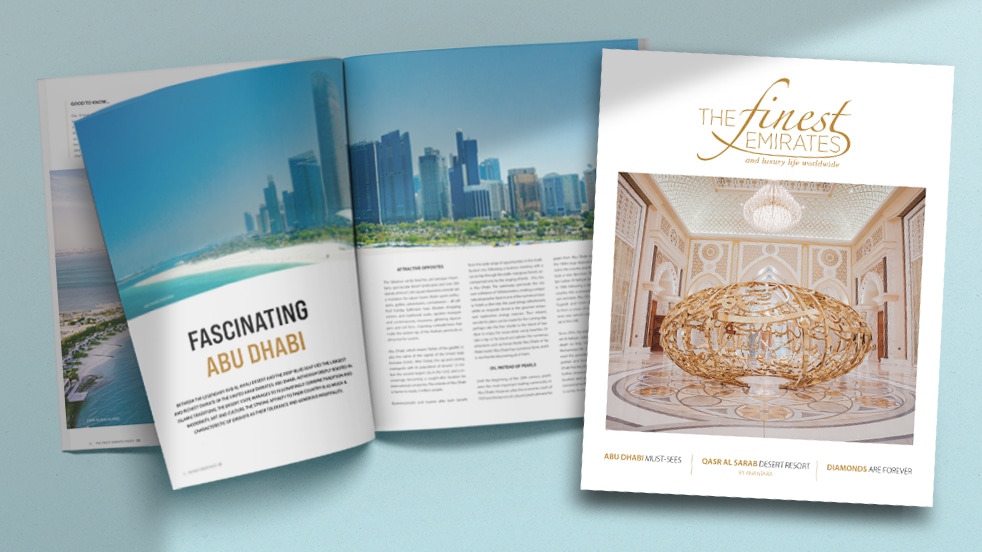 The print edition 1/2023 of  The finest Emirates is published in German and English. Opulent and sophisticated. Modern and glamorous.
The finest Emirates meets interesting personalities, reports on high-end fashion, beauty, lifestyle and indulgence. The discerning reader can expect journalistically competent reports, portraits and news, presented in an elegant design.
EDITORIAL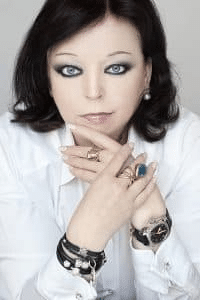 It is our pleasure to introduce Abu Dhabi – the capital of the United Arab Emirates – to our readers in this issue. There is much new as well as historical. The location of Abu Dhabi is unique, on an island off the mainland in the Persian Gulf. The concentration is in Abu Dhabi on its oil exports and trade. It is reflected in everything, be it the modern buildings, the extensive shopping centers that leave nothing to be desired or the Abu Dhabi Marina to name just a few stations.
An incredible eye-catcher is the Sheikh Zayed Mosque, under white imposing marble domes, the great mosque shines outward.
Wonderful resorts, culinary highlights, friendly people from a mix of international nationalities, grandiose terraces and beaches extend the positive radiance. Let yourself be carried away into a real fairy tale from a Thousand and One Nights.
We are immersed in the world of the Berlinale 2023 as well as in the silent film world of the great Charlie Chaplin, whose film "A Woman of Paris" was officially presented at the Berlinale by his granddaughter Kiera Chaplin. A great film that was undiscovered until now. It was an honor for us to work with Kiera Chaplin to present the The finest Emirates Chaplin Dinner in cooperation with one of the hottest restaurants in Berlin, the Grace at the Hotel Zoo, with international guests. Kiera Chaplin, will give us some stylish secrets in an interview in my "The Style of" column.
With our grand seigneur of fragrances Frank Schnitzler, we introduce them to the world of the international fragrance house NUHI Paris. An absolute insider tip that is worth discovering. More surprises are waiting for you …
Yours sincerely, Monika Kistemann
Photo Cover: © DCT Abu Dhabi
Photo M. Kistemann: © André Rau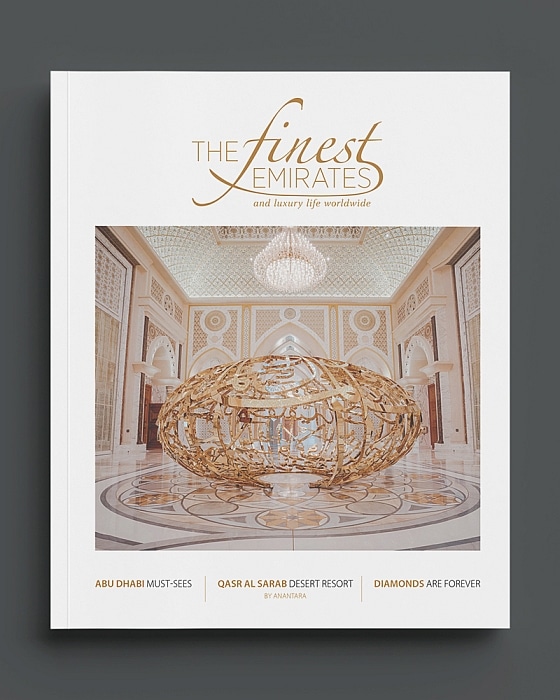 You are welcome to order our current print edition of The finest Emirates. Please send a corresponding mail to: info@thefinestemirates.com
Prices: D 8,00 €, CH 14,50 SFR, EU: 8,90 €, GB 6 £
Shipping costs are calculated individually according to quantity and country.