MAR 24 – APR 02 2016: ABU DHABI CORNICHE
The Festival celebrates, commemorates and honours the inspirational values of Her Highness Sheikha Fatima bint Mubarak.
Throughout multiple and diverse activity zones, the festival creates an entertaining and highly interactive atmosphere that welcomes families and individuals from all walks of life.
The Mother of the Nation festival has a number of zoned areas:
SOUQ: Highlighting the most creative and unique products within the UAE.
BEACH DINING: A centralised food and beverage area features the best dining concepts in Abu Dhabi from upscale restaurants to local street food.
ACTIVE: An area focused on health and physical spectacle, showcasing some of the most impressive sports performances in the country, whilst also engaging visitors to get involved and participate.
ART & ART MARKETS: A winding pathway that leads visitors through a garden of creative and artistic experiences themed around the core virtues of "the art of motherhood".
CONSERVATION: A zone dedicated to the beauty of the environment of the UAE, with a focus of engaging visitors to get involved in local preservation. Visitors are invited to enjoy a day out on the Corniche and participate in this unique community event that celebrates the best aspects of contemporary culture within Abu Dhabi and the UAE.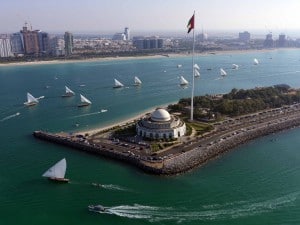 Photos: © Abu Dhabi Events © TCA Abu Dhabi