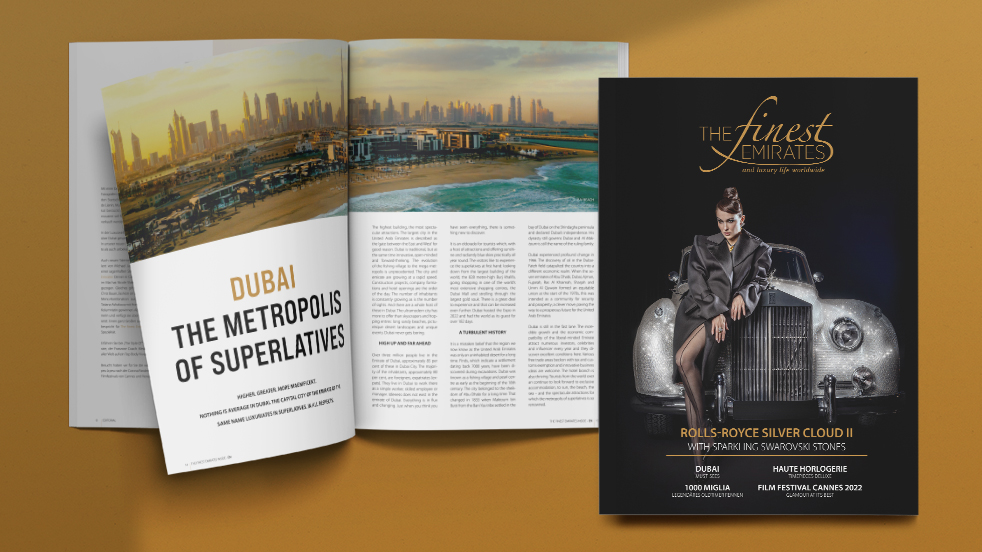 The latest print edition of The finest Emirates is published in German and English: opulent and sophisticated. Modern and sophisticated.
The finest Emirates meets interesting personalities, reports on high-end fashion, beauty, lifestyle and indulgence. The discerning reader can expect journalistically competent reports, portraits and news, presented in an elegant design.
---
EDITORIAL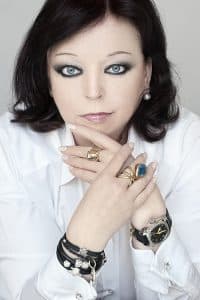 Monika Kistemann, Editor-in-Chief
With a special cover production in Munich – stunningly portrayed by German photographer Frank  Altmann – we herald the start of this issue. Focus on the wonderful Nina de Lianin, muse of Thierry  Mugler, and the breathtaking unique Rolls-Royce Silver Cloud set with a million Swarovski stones. The luxury limousine is to be sold to an enthusiast for a charity project of the owner.
Throughout the world of luxury, when it comes to the Emirates the subject is primarily Dubai. We do that too, but we go FURTHER: In our new The finest Emirates issue we whisk you to familiar and unfamiliar worlds in the Emirates.
We also dedicate ourselves to new talents, including the last musical talent of Michael Jackson: Nicole Slake Jones. An American with a fabulous voice, who lives in Paris. At our first The Finest Emirates Dinner in Cannes to mark the 75th Cannes Film Festival in May, Nicole Slack Jones enthralled our international guests. The same applies for the creative couture chef Chriz Bauer "Fashion on a Plate", who created a menu combination for us from Emirati and European cuisine. It is a particular joy for us to have recruited Chriz Bauer for The finest Emirates with his own column.
London & Berlin-based beauty columnist Tatiana Ashakova is a make-up & hair artist as well as hat couture designer, applying wonderful creativity to  everything that she realizes. One of the true greats of the perfume world, grand seigneur Frank Schnitzler, discusses interesting new niche scents, his speciality, for The finest Emirates.
In "The Style Of" you can learn how the best-known fitness trainer in the Emirates, Frenchman Coach Meddy Boudat, helps celebrities from around the world hone their bodies to perfection. We have attended the leading red carpets of the world for you, which are gradually starting to make a comeback after covid: the film festivals of Cannes and Venice once again thrilled with glamour at its best.
Yours sincerely, Monika Kistemann 
You are welcome to order our current print edition of The finest Emirates. Please send a corresponding mail to: info@thefinestemirates.com
Prices: D 8,00 €, CH 14,50 SFR, EU: 8,90 €, GB 6 £
Shipping costs are calculated individually according to quantity and country.
Photo Monika Kistemann: © André Rau
Photo Cover: © Frank Altmann