The authentic appearance of a contemporary metallic sculpture – a sound experience that must be felt to be believed. Like the ignition of a Porsche race car paired with distinctive, iconic design – this is the latest innovation from Porsche Design.
---
Sculptural art meets technology, sound and design
With the sonorous name Porsche Design "911 Soundbar", the

premium sports & lifestyle brand is introducing a unique sound system for home entertainment that will make the hearts of men race. The core of this innovative architecture consists of the powerful rear section and the striking tailpipes of the current Porsche 911 GT3, re-purposed as sub-woofer to guarantee a very special acoustic experience for aficionados of music and sports cars alike. Not only that the unmistakable sound of a 911 GT3 starting is brought right into one's own living room, but it also creates a very unique music experience.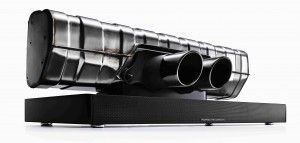 Distinctive sound experience
When it comes to modern technology, the Porsche Design "911 Soundbar" is cutting edge: high quality 2.1 Virtual Surround System, 200-watt output, Dolby Digital De-coder, DTS TruSuround™, Bluetooth® 3.0 wireless technology, two digital inputs and one analog output, and an LED display are just a few of the numerous product features promising brilliant sound quality at home.
Pure authenticity
In this first generation, the vehicle components surface has intentionally been left unaltered, with components assembled in their original form and design. Visible welds and contact points underscore masculinity, craftsmanship, and authenticity. The hovering metallic object on top of the matte black base makes the "911 Sound-bar" a contemporary sculpture for any place.
More power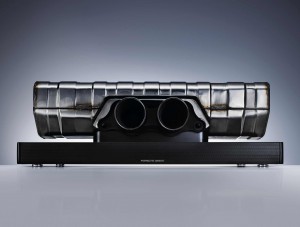 Similar to the Porsche 911 GT3, the rear section plays also an essential role in the "911 Soundbar" in generating the typical Porsche sound. Yet the highlight is that the function of the original parts is more or less inversed: contrary to a car, the rear section and tailpipes on the "911 Soundbar" are used as resonators and rearward sound is channelled to activate the air in the rear section's "pipe system." The result is an extremely high level of efficacy in the corresponding frequencies. In light of the air volume, this translates into a sound threshold that is deeper, quantitatively louder, and higher – simply put: "more power."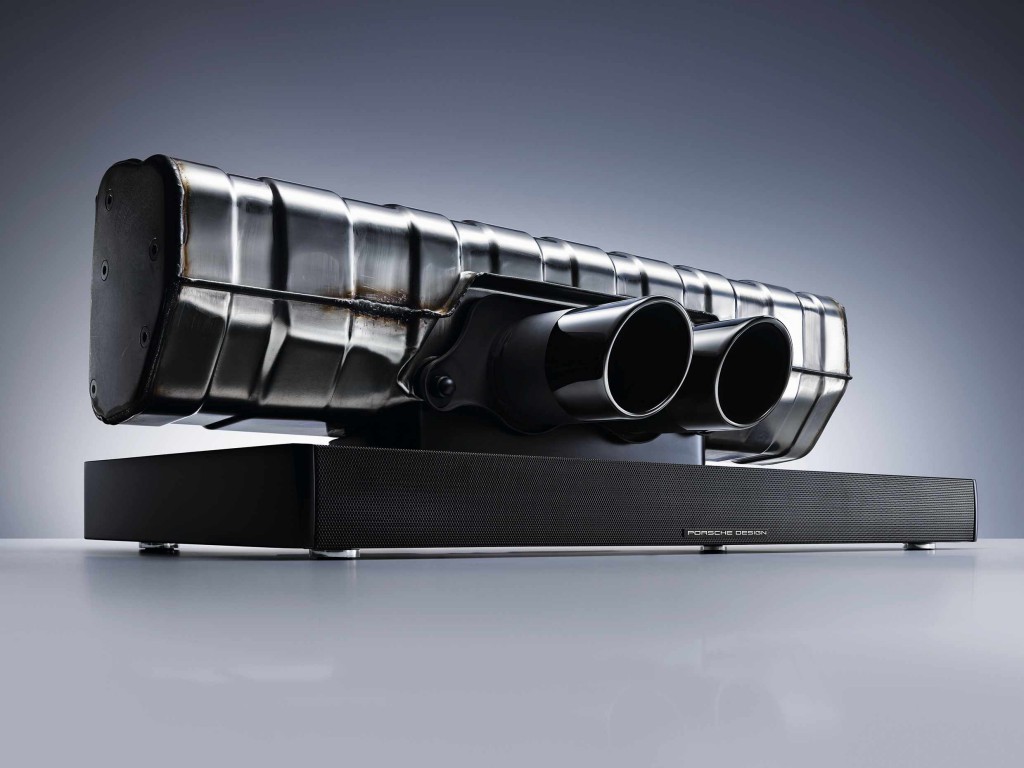 The Porsche Design "911 Soundbar": high-end sports car components, cutting edge technologies, and puristic design combined into one single sound experience. This unique sound system will be available in select Porsche Design Stores and Porsche dealerships.
Photos: Porsche Design