Sophisticated, luxurious accessory and select form of payment. The prepaid MasterCard® cards in platinum, gold and silver from Pure and Solid® Ltd embody a new dimension of exclusivity.
Precious in material and complex in manufacture: the unusual MasterCards are stylish eye catchers, hand made in platinum, gold or silver. This select form of payment is not just reserved for end consumers. The precious metal cards can be used to conduct transactions and may be acquired by companies as blanks or in personalised form, both as Visa and MasterCard.
FIRST CLASS CARDS
These beauties are not only pretty to look at, card – holders can also use them to pay everywhere there is a MasterCard sign. The swish credit cards are particu larly suitable for passionate shoppers: each transaction directly reduces the available credit, but the card can never be overdrawn. There are limits to the shopping sprees with these stylish first-class cards, however: the annual maximum credit charging volume ranges from 100,000 to 300,000 euros (the cards can also be pre-charged with the corresponding credit value in USD/GBP). As the weight of the precious metal cards lies clearly above the standard weight for classic plastic cards cash withdrawals are not possible at cash dispensers, but from bank counters. The current credit level on the card can be viewed at any time in the password-protected area at www.pureandsolid.com.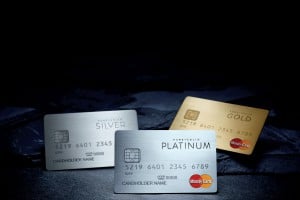 All of the cards are chic. Whether they are made from platinum, gold or silver, each of them is a small jewel. The delivery period for these handmade treasures varies from four to ten weeks, depending on demand. Lovers of exclusive accessories are renowned for their patience, however. After all, who can call a hand-cast luxury credit card their own? Naturally, this much exclusivity comes at a price. The queen of the cards, the Pure + Solid® Platinum MasterCard® Prepaid, is available for EUR 28,690. Approximately 65 grams in weight, the card is made from pure platinum (Pt 999) and comes in a handmade leather case with certificate of authenticity. A coveted Priority Pass™ with access to over 600 VIP lounges at airports in 100 countries is included as a goodie. After all, there are many advantages to paying in style.
The cards can be obtained exclusively via www.pureandsolid.com.
Photos: © PURE + SOLID®