With the theme "New Faces", the new JOOP! Autumn/Winter collection 2018/19 shows the face in several ways. 
---
The collection reflects the versatile personality of the modern woman: The features of the JOOP! campaign model Julia Jamin were the model for the artistic leitmotif of the collection. The famous tattoo artist Fabrice Koch was inspired by Julia Jamin's delicate,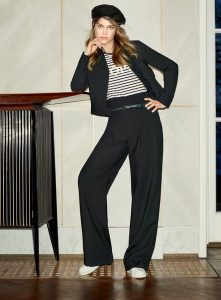 feminine facial contour and transferred the ideal-typical face of the modern JOOP! woman to a print. It appears as a leitmotif on the JOOP! t-shirts, which are available in individual colours. In addition, JOOP! relies on clear messages in the form of statement T-shirts and places statements such as "Girls can do everything in JOOP!" or "Just like JOOP!" strikingly on white basic T-shirts.
The motto "New Faces" is also reflected in new shapes and innovative material qualities and runs as a guideline through the entire collection.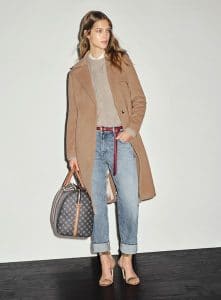 The focus of the collection is on playing with volume: winter down jackets for an oversized look, casual coarse knitwear and wide blouses play a conspicuous role. The JOOP! collection also shows its new face when it comes to fabric selection: three-dimensional surfaces and structures make clothing a special haptic experience. These include innovative knitting processes, traditional patterns in a new interpretation, modern material mixes, double face wool blends – all of the highest quality. (Multi-)functionality and stylistic details as well as surprisingly placed design elements show the elaboration in depth.
COLOURS AND MATERIALS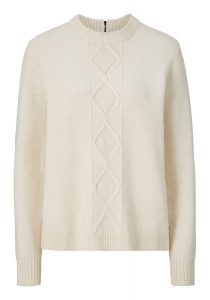 Clear colours such as black, winter white, navy, grey and camel form the basic tones. Contrasts and accents are set by nude tones, olive and winter berry.
An exciting game with contrasts and volume enables multi-layered and versatile looks. Between oversized and figure-hugging, voluminous exterior and interior, casualness and elegance, a wide range of feminine styles opens up. Skinny jeans, oversized sweater and oversized down jacket make a modern, uncomplicated daywear.
HIGHLIGHTS AND DETAILS
Down is the seasonal companion, especially as lightweight down in all-over JOOP! cornflower print and as reversible jacket in individual seasonal colours (rosé, olive and winterberry). Playful details such as unusually placed zippers and fake fur elements in hoods break the clean line.
Photos: JOOP!