A shower of fragrances and scents in the Burj Khalifa…
As soon as you enter the impressive lobby of the Burj Khalifa, your nose will be bewitched by an appealing scent. It flows through fresh air vents distributed throughout the entire tower. A blend of fragrances from various oils has been specially created for this. Lemons, cedar wood and cinnamon will beguile your nose. And this is only what we know, the rest of the ingredients are a closely guarded secret.
Sweet tooth heaven…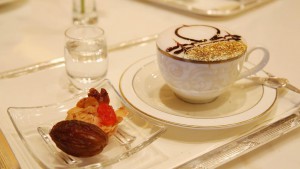 5 kilograms of gold are used every year in the Kempinski Emirates Palace Abu Dhabi to decorate cakes, for pies and capp
uccino foam. The patisserie of this luxury hotel pampers its guests with the ultimate in exclusive delicacies.The famous Palace Cappuccino is a highlight for connoisseurs – sprinkled in real 24 carat gold flakes. The Palace Cappuccino is served throughout the day in both Caviar Bar and Le Café from 7:00 am to 12:30 am.
Text: Sarah Schmitt