Five tonnes of gold leaf decorate the Emirates Palace
Very refined: there is nothing common about the luxury hotel Emirates Palace. The complex architecture of the opulent residence in Abu Dhabi meant that its construction was already a feat of skill, one which took around four years to complete. Only the best of the best was good enough for its design. For example, five tonnes of gold leaf were utilised in its construction. So much exclusivity comes at a price: the construction cost of around three billion dollars meant that it was long the most expensive hotel in the world. However, in 2010 the Emirates Palace relinquished this title to The Cosmopolitan in Las Vegas, the construction of which cost around four billion.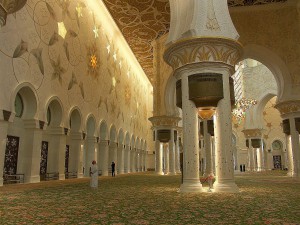 Largest hand-woven carpet in the world
Sheikh Zayed Grand Mosque in Abu Dhabi is the largest mosque in the UAE and the third biggest in the world. Every visitor catches their breath at the sight of its beauty and splendour. Named after Emir Zayid bin Sultan Al Nahyan, a co-founder and first President of the United Arab Emirates, the mosque was opened in 2007. There is room for around 42,000 of the faithful beneath its roof. Also famous is the spectacular chandelier in the mosque, the largest of its kind in the world. A lesser-known fact is that the world's largest hand-woven carpet is also to be found here. Weighing in at 42 tonnes, it is 5,627 square metres in size. Its production was highly complex. Over 1,000 Iranian carpet weavers spent four years creating it. Transporting it was not possible due to its vast size. The solution: each weaver brought along a completed section of the carpet, with the individual pieces then joined together in the mosque.
Text: Petra Dietz
Photo Emirates Palace Abu Dhabi: © KEMPINSKI