Clarissa Dorn and Roel Haagmans pursued their love for light and crystal when they established the WINDFALL company in Munich in 2004, in order to pave new ways in crystal luminaires design.
---
Crystal Cascades
Roel Haagmans had made his name on the international scene with his designs for classical/oriental chandeliers for the Sultan Quabos Mosque in Muscat and the Grand Mosque in Abu Dhabi.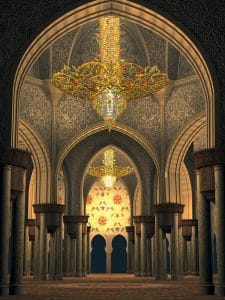 Clarissa Dorn brought long-term experience in art, interior design and organisation with her. Their first joint design "Scarlett" – a crystal cascade, encased by a transparent, colourful Organza cylinder shade – continues to enjoy great success. Shortly afterwards, their second design "Hellbob" was developed, and a new lighting concept for crystal chandeliers was born: a sphere of crystal made to measure using the "Windfall curler" technique. Floating crystal objects are illuminated by cascading lights, which can unfurl unimagined emotions through the resulting spatial illuminating effects.
 A new kind of subtle charm in luxurious lighting has been born.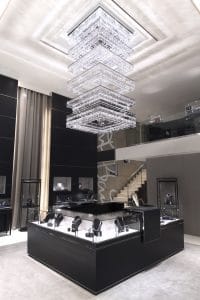 Like a tornado
Interior designers and private owners have been rapidly drawn to these unusual designs which the company is commissioned to create in projects all over the world. Like a tornado, WINDFALL has stirred up the traditional lighting sector. The first major projects were commissioned by architects such as KCA International, David Chipperfield and SHH of London and Paul Steelman Designs from Las Vegas.
Contemporary lighting with crystal



In 2006, WINDFALL inaugurated the "classic with a twist" series with "Balance", one of the most beloved chandeliers in the collection. Balance adapts to many different illumination projects and is particularly advanced with regards to the fluctuating dispersion of light. This chandelier manages to be both modern and classic at the same time and has turned dreams into reality in both Arabic Palaces and the Royal Albert Hall as well as in nightclubs in Brussels, bars in Moscow and in mansions all around the world, from Hollywood to Singapore.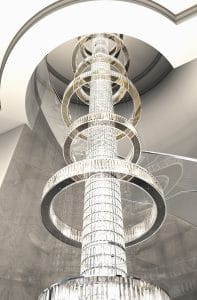 Visionary ideas with meticulous planning
The personal, passionate handling of their work, proximity to customers and the constant willingness to change has given this small company from the Maxvorstadt district of Munich the opportunity to collaborate with companies such as British Airways, Cartier International, Phillippe Starck, UN Studio, Candy&Candy or Roberto Cavalli. 
Photos: ©   Windfall GmbH
---