Innovative, highly modern, traditional − Dubai is all of these. But Dubai can be different, too. The desert metropolis is also green, organic and vegan, in keeping with the global trend. Living an aware and healthy life style, with the focus on the environment and holistic wellbeing. Admittedly, the philosophy is not a new one. However, whereas once it was disparaged, today it is state of the art − including in the United Arab Emirates. Tourists and locals are discovering the new, green lightness of Dubai.
PICNIC IN THE PARK
Eating outdoors has a long tradition in the UAE. Locals meet up with friends and family in one of the surprisingly numerous parks in the city. They dine amidst the greenery − and this in a desert city. It is surprising just how much green space Dubai has. The parks are very well tended, with shading trees, barbecue and seating areas, cafés and snack bars ensuring a relaxed time out. Each park is individually laid out and has its own regulations. In some parks specific sports such as rollerblading or cycling are allowed, whereas in others they are forbidden, but ball games permitted. All that is required for a healthy picnic in one of these green oases can be found in the organic shops or the markets of the city. Anyone choosing to take a picnic on a Friday, the weekly day-off in the UAE, should spread out their blanket in Zabeel Park. This is where the Ripe Food & Craft Market sets up its stalls on Friday mornings.
ENVIRONMENTALLY FRIENDLY MOBILITY 
Like many cities, Dubai can also be explored via a Segway. On the guided tours participants are also encouraged to look upwards. Because the view of the gigantic sky – scrapers is spectacular. On the electricallypowered one-man transport the tour circumnavigates the Burj Khalifa and the Dubai Fountain. Those wishing to move around the city without emissions whilst also maintaining their fitness can take a bicycle. Rental points are available in Dubai City, with reservation possible via telephone, online, via smartphone app or directly at the terminals.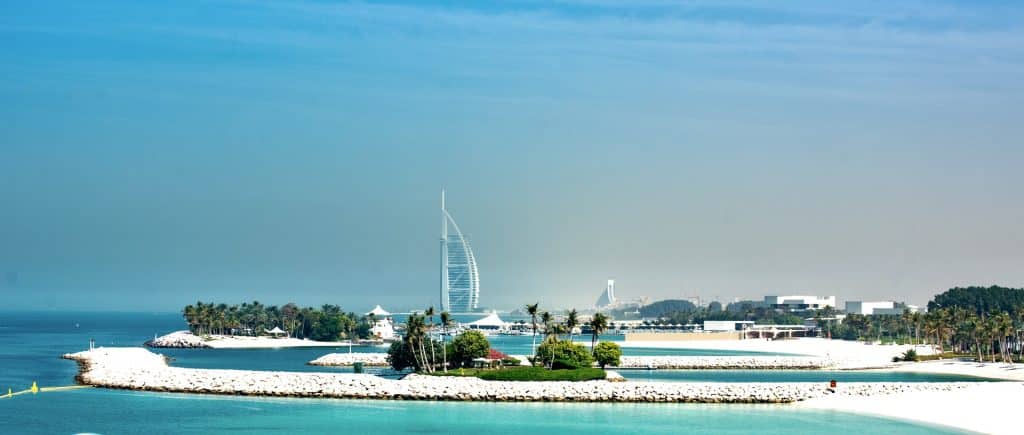 Beach Life
Green grass and white sand is a particularly attractive combination that a number of parks in Dubai offer. Over 100 hec tares in size, the Al Mamzar Beach Park is especially charming and varied. In addition to green spaces, it also offers visitors a sheer endless beach, perfect for relaxing and bathing. Lifeguards are on hand to ensure safety, as they are at the Jumeirah Beach Park. Those that prefer things more comfortable can rent one of the air-condi – tioned chalets available to day guests. Surrounded by lawns, trees and flowers, the gaze on the blue Arabian Gulf, hectic day-to-day life is soon forgotten in green Dubai.
Further information at:  www.dubaitourism.ae
Text: Sarah Schmitt
Contributed image: Dubai – Miracle Garden