Who says that you can't pluck the stars from the heavens? In the planetarium in Sharjah the glittering firmament seems almost within touching distance.
Travelling through the depths of space, observing stars and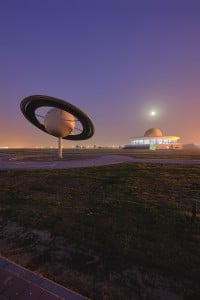 marvelling at planets – the planetarium of the Sharjah Centre for Space, Sciences and Astronomy (SCSSA) delivers a unique cosmos experience for visitors of all ages. The planets and star systems are a fascinating attraction for locals and tourists in equal measure. The SCSSA was opened in May 2015 under the patronage of His Highness Sheikh Dr. Sultan Bin Mohammed Al Qasimi, Member of the Supreme Council, Regent of Sharjah and President of the University of Sharjah.
Like the sun …
the new building shines on its site in the university city of Sharjah. It impresses its visitors before they have even set foot inside it: the imposing 18-metre golden dome of the planetarium shines from afar. At the request of Sheikh Dr. Sultan bin Mohammed Al Qasimi it represents the sun. The 209-seater planetarium was built at an angle of ten degrees, allowing the various shows to be viewed in optimal comfort. One of the highlights is the central "Starball" – including ten million stars – which is connected to seven special projectors that depict the planetary system.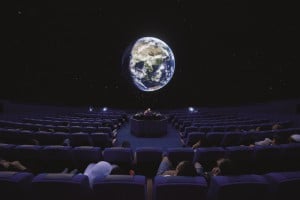 Space. Science. Entertainment.
With the planetarium and the numerous exhibitions on the subject of space the SCSSA is an exciting place for visitors of all ages. In addition to being a tourist attraction it is also a centre of science and teaching.
Hungry stargazers can visit the cafeteria for snacks and drinks. And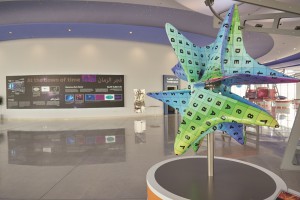 anyone looking to take a memento home with them will be sure to find something in the souvenir shop. Although not a genuine star, it is undoubtedly an attractive memory of an exciting visit to the Sharjah Centre for Space Sciences and Astronomy.
Text: Sarah Schmitt
Sharjah Center for Astronomy and Space Sciences
Photos: © SCTDA