The location: perfect. The design: breathtaking. The Sans Souci Vienna exclusively combines casual luxury and extraordinary glamour.
The "Viennese interpretation of an international boutique hotel" welcomes its guests in the Burggasse, at the heart of the Austrian metropolis. Where museums, theatres, restaurants and hip bars embody lifestyle and culture at its best. Vienna's largest and most exclusive shopping district is just a stone's throw away, as is the art and culture district of Spittelberg and the museum quarter.
ART, DESIGN AND GOOD TASTE
The Sans Souci is located in a building constructed in 1872 and now carefully renovated.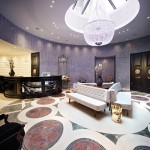 A perfect retreat at the heart of Vienna, which knows how to delight. "Charismatic luxury is probably the best way to describe the secret of the Sans Souci Vienna," explains Norbert Winkelmayer, Ceo of the Sans Souci group. "it is the particular combination of art, design and good taste that characterises the incomparable Sans Souci charm. Not flashy but casually reserved, a lifestyle."
Photos: © Hotel Sans Souci Management gmbH, Photographer: Gregor Titze