Wallow. Savour. Guests of the exclusive Gran Meliá Rome Villa Agrippina can consider themselves fortunate. They experience not only of the world's most beautiful cities, but also the luxury hotel trade at its best.
Totally relaxed, I swim a length or two of the sparkling pool in the Gran Meliá Rome, surrounded by a green paradise with blossoming orange trees. After a both tiring and wonderful day of sightseeing in the Eternal City, this small corner of the earth is a heavenly oasis. My view is probably unique: I'm looking out at the Vatican and St. Peter's Basillica. Both are just a few minutes' walk away, as are many other attractions, such as the imposing Castel Sant'Angelo, the picturesque Tiber embankment, the charming Trastevere quarter and the baroque Piazza Navona.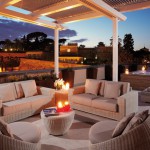 COMFORT DELUXE
It was only in April 2012 that the Spanish Meliá Hotels International chain opened this flagship of it luxury Gran Meliá brand. Everything about this five-star establishment is excellent. The 10,000m² outdoor complex with pool and botanical garden in the heart of central Rome is in itself unique. More a resort than a hotel, the Gran Meliá Rome enchants its guests with ultimate luxury it the 116 bedrooms, including a number of spectacular suites with 360-degree views over Rome. Here you feel wholly at ease in an unburdened, luxurious way – I'm very impressed. What, quite apart from the hotel's location and design, really has me in raptures is, how – ever, the excellent service, which has a genuine 'wow factor'. With a friendly smile and always ready to help, the hotel team knows the answers to questions before you've even asked them. That's a way in which I'm happy to be pampered. Guests who have booked a category with Red level service, also get to enjoy having their own butler, a private check-in and their own lounge.
Text: Petra Dietz
Gran Meliá Rome Villa Agrippina
Fotos: © Meliá Hotels International