The success story of the family-run manufacture Tiroler Goldschmied sounds like a story from 1001 Nights… 
The company, from Dorf Tirol, has developed a new process and tool for decorating leather falcon hoods with gemstones and refining them with individual logos. For over 45 years now the South Tyrolbased company has been designing international award-winning goldsmith creations. The company produces an unusual and customisable costume and hunting collection in addition to its LA PREZIOSA collection of jewellery. "It was therefore a logical step to transform falcon hoods into fabulous pieces of jewellery. Refining the hoods represented a considerable challenge. Working the thin leather, the precious materials and the personalisation called for a great deal of know-how. As a result, we spent a whole year on the development stage," says Hannes Gamper, Managing Director of Tiroler Goldschmied.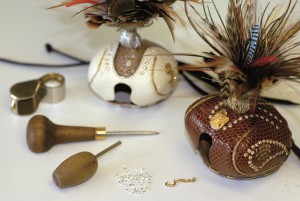 The select hoods caused a major stir at the International Hunting & Equestrian Exhibition in Abu Dhabi. The well-known hood manufacturer Giancarlo Pirrotta produces the falcon hoods from special leather and materials and Tiroler Goldschmied sub sequently transforms them into luxurious custom pieces. This exclusivity comes at a price: plainer models are available from 5,000 euros, more complex hoods cost upwards of 40,000 euros. The falcon accessories are decorated with precious gemstones and can be personalised with the family crest or initials. To their new owners, the exclusively beautiful bonnets are as fascinatingly unique, mysterious and graceful as falconry itself.
Photos: © Tiroler Goldschmied